The Software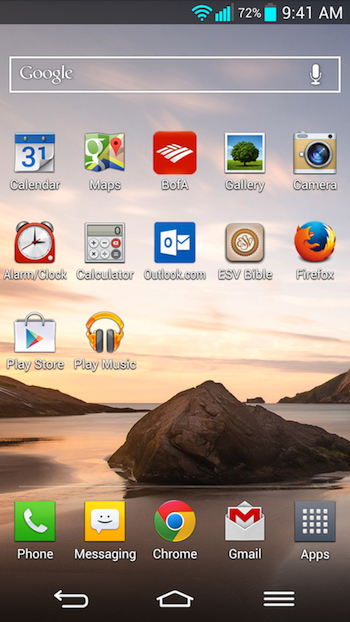 No operating system, either on the traditional desktop or mobile, is perfect. What Android brings to the table is choice, and coming from the perspective of a former iOS user, I have come to appreciate the fact that Android is so customizable. For example, my G2 came with a default keyboard that was developed by LG. I did not care much for it, as the on screen buttons were too small and the auto correct features did not work as I wanted them to. I simply switched out the default LG keyboard for the stock Google Android keyboard, which I had downloaded from the Google play store. Problem solved. As another example, I really like the Google Play music app, but don't care for the stock LG music app. I simply disabled the stock music app in the settings and no more would the application show up in my application list. Contrast that with iOS, where if you don't like the Newsstand app or the stock calculator or whatever, you are stuck with it. The best that could be done is to hide it in a folder.
Application management is better on Android than it is on iOS. Take for example the screenshot on the left. This comes from the application settings menu. As you can see from this screen, one has options to force quit the application, uninstall it, clear the application data, and clear the application cache, in addition to telling the application whether or not to show notifications. I really like this functionality, because it can be used to limit app sizes and wasted space. This was one of my major complaints I had with iOS, with the Facebook application being a notorious offender in this regard. On my iPhone, the Facebook application would grow considerably large (frequently in the hundreds of megabytes) due to the large size of the application's cached data. The only way I knew of to reduce the application footprint was to uninstall and reinstall the app. Contrast that with Android, where you can clear this type of data with the touch of a button.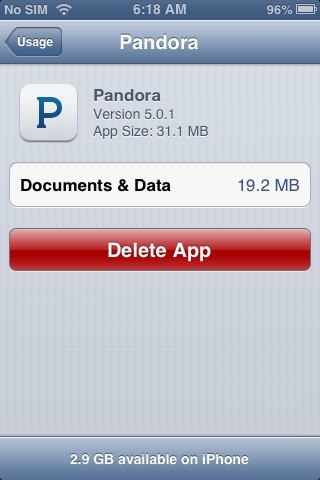 Another very cool thing about Android is the fact that like a PC (or Mac or Linux distro), you have access to the file system. You can choose to save files wherever you want, and files can be moved around with ease. I sorely hated the fact that iOS does not even let you view the file system, let alone modify it without a jailbreak, and it is one of the reasons that I feel that iOS is a "dumbed down" operating system. Sure, by limiting access to the file system you can prevent inexperienced users from screwing things up, but for me, I find this functionality enables me to perform certain tasks on my phone that I could not do on my iPhone.
The G2 has Bluetooth file transfer capabilities. Files of all types can be sent from one phone (or computer) to another via Bluetooth (as well as NFC). I have always found it stupid that iOS restricts this functionality. The phone I had before my 3GS, a Symbian S60 powered Nokia, could transfer files via Bluetooth, and it blows my mind that the iPhone still cannot do this. It's not a technical constraint, or even a security one. Rather it seems like another case of Apple dictating what they think is best for their users.
There is also the concept of "openness". The two topics above regarding Bluetooth file transfer and access to the file system touch on this concept. Now, for the purpose of this article, I don't mean "open" in the sense of open source software, although Android at its core is open source. That's a topic for another article. Rather, I mean open in the sense that you're not restricted in terms of software choice. Continuing on what I touched on in the section above where I discussed the fact that Android is customizable and one can swap out default apps, let's say I did not like the Google Play bookstore or app, and my digital books are all on Amazon's Kindle platform. On Android, I can disable the Google Play Books application and download the Amazon Kindle app, where I then would have access to all my books and can buy them from Amazon, all within the app itself. The key thing here is the ability to purchase from within the app itself. Contrast that with iOS, where to purchase Kindle books on the iPhone, it cannot be done from within the Kindle app. Books have to be purchased from the web (and last I checked, it was quite clunky). Additionally, you can even choose to side load apps. Try that on vanilla, non-jailbroken iOS.