An Analysis of
My Top Three Favorite Kicks
of All Time
…
It all started in fourth grade. You see, it was in fourth grade that I discovered my love for basketball, became a die-hard fan of Michael Jordan, Scottie Pippen and the Chicago Bulls, and became somewhat of a sneaker geek. Back then the shoes to get were Nike Airs, especially if they had a visible air bubble, and I was fortunate enough that Nike could be my brand of choice. As a grown up, I still mainly purchase Nikes, but I now favor a few other brands such as Reebok, Asics and New Balance.
A while back, I picked up the book Driven from Within: Michael Jordan at a used book store, and given the wonderful imagery contained therein, I began to feel nostalgic about a few specific pairs of shoes that I have owned over the years. In the book, Tinker Hatfield, who designed a majority of the Air Jordans, wrote about the design process. I found his design process to be fascinating, thus inspiring me to write this article.
I would like to present to you my top three favorite kicks of all time. These are all shoes that I either own or have owned, but please keep in mind that these are simply my humble thoughts, derived from my own personal experience.
…
New Balance 574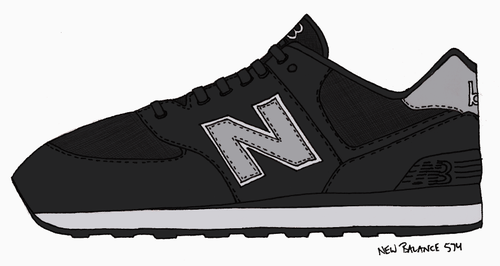 Originally worn by marathon runners in the 1980s, the New Balance 574 was a popular running shoe due to its minimal, yet comfortable design and superb durability. Today, most people wear the 574 for more casual activities, and they look good for any occasion with both jeans and shorts. (One of my best friends, as a groomsmen's present, gave me my current pair of 574s. We all wore them as groomsmen in his wedding.) The 574 may not look like they would be up to the task, but I sometimes play basketball in them.
Air Jordan IV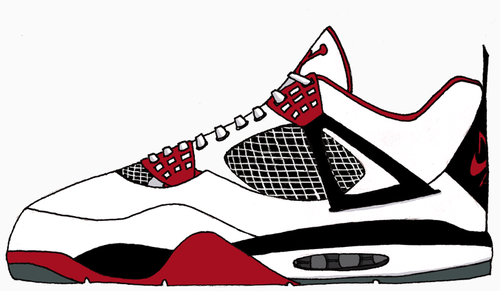 The Jordan IV is one of my top two favorite Jordans ever. It was the second Air Jordan designed by Tinker Hatfield and was basically an evolution of the Jordan 3. This is the shoe that got me into shoes. After coveting these shoes for the majority of 4th grade, toward the end of that school year, I finally got a pair. The specific color scheme I had was black and gray. I loved the suede material that the upper was made of, and they were extremely comfortable. I have never been a fan of high tops, and as such, these three-quarter height shoes were perfect for basketball. I wore those Jordans until they basically fell apart, and then I gave them to a friend.
Jordan 11 Low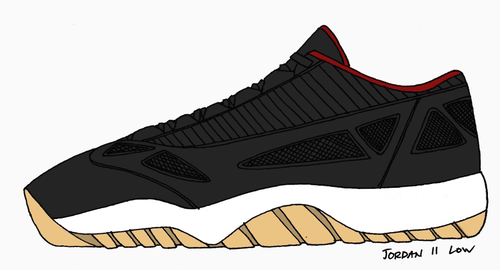 The low top version of the much beloved Jordan 11, these hold the title as the most comfortable Jordans I have ever owned. I got them in the summer after 10th grade and played my summer league and 11th grade basketball games in them. I loved those shoes. The mesh on the sides made them very breathable, they were extremely light, and they ample cushioning, to the point where they felt like an extension of my feet. They were so comfortable in fact that I sometimes forgot I had them on. Sadly, my foot grew between 11th and 12th grade and they no longer fit. I wish that I had kept them just so I could say I still have them, but I tossed them when I got married and moved into my new house. If they ever retro release these again, I'll probably pick up a pair.
Return to The Art Directed Journal