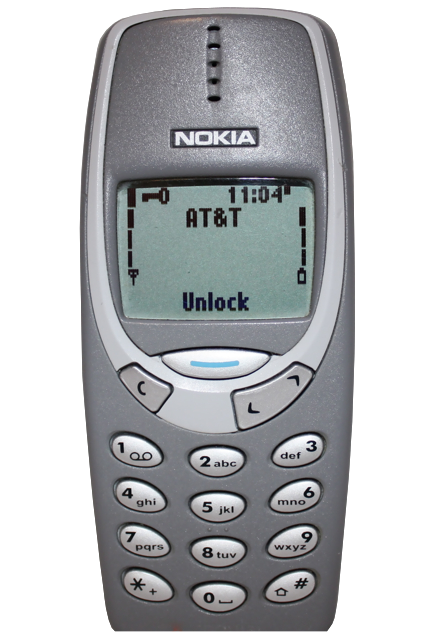 My Favorite Phone Ever
While the iPhone is a fantastic phone with many capabilities, the Nokia 3395 (3310 in Europe) is perhaps my favorite phone of all time. It was small (for 2002), and it fit easily into my pocket. It was simple and intuitive to use, and perhaps most importantly, it was the first phone that I ever owned that was actually fun to use. (I had an analog Star Tac before the 3395, and it sucked.) My 3395 was also second to none when it came to durability. I recall once dropping it by accident into a trashcan that contained water at the bottom. I quickly retrieved the phone, took it apart (it was relatively easy to do, especially in a day where replaceable covers were the norm), and dried it out. It still worked like a champ.
Aside from the durability and ease of use, the 3395 had quite a few notable features. For starters, there was Snake, a classic time suck, as well as Space Impact. The keypad was fantastic for texting, with just the right amount of give and "clickiness". The reception and call quality on the 3395 was second to none. I love my iPhone, don't get me wrong, but the iPhone sucks as an actual phone. Last but not least, one of my favorite features of the 3395 was a built-in ringtone composer. Using this composer app, once could create their own ringtones, and there were several sites dedicated to showing one how to do this. I had also replaced the original Ni-Mh battery with a smaller Lithium ion one.
Even after many phone upgrades and many years later, I used to, on occassion, pop my SIM back into my trusty Nokia 3395 and use it for a week or two. After upgrading to my first Symbian-powered Nokia, this practice stopped, and sadly, I can no longer find my 3395. It must have been lost during one of my recent moves. That said, the 3395 will always have a special place in my heart.