A Few Thoughts on Watches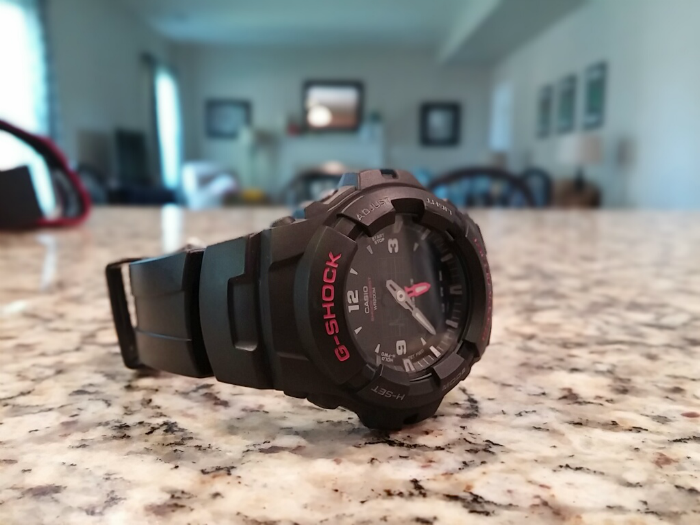 As long as I can remember, I have loved watches. I wear one everyday, and I have one for most occasions. When I am not wearing one, I feel naked. I like watches not only for their fashion statement, but I feel that they are also the best way to tell time. As opposed to pulling out one's phone to check the time, which I find to be incredibly off-putting, glancing at one's watch can be done in an inconspicuous manner.
My watch of choice for everyday wear is the Casio G-Shock shown above. I like the military-grade look of this watch. It is very well made, and as the look of this watch suggests, it really is a rugged time piece. You see, I am pretty hard on my watches, and as such, one of the things that I most require from any watch that I plan to wear practically everyday is durability. This particular G-Shock has been dropped and banged against things by accident far more times than I would like to admit, and it still looks as good as new. I like that it has both analog and digital interfaces, and as simple as this may sound, I rely on the alarm function of this watch to wake up each morning. This watch truly is currently one of my favorite possessions. As such, I am really torn between a watch with the most basic functionality, such as my G-Shock, and one of the shiny, new Android Wear watches, such as the Moto 360.
The Moto 360 is certainly an appealing watch. It looks really sharp. Additionally, through its Android Wear interface, it will put Google Now on my wrist (given that I am an Android user). One of the reasons that I am not too fond of Samsung's Galaxy Gear watches is that aside from the design (of which I am not a fan), it is my understanding that one can only use it with a Samsung device. As I understand it, Android Wear devices will be compatible with all Android devices, no matter their manufacturer.
A watch of this nature would be enormously useful. For example, my mobile phone and my "home phone" are essentially one in the same. I have a land line through my ISP, but I rarely ever use it. I only give out my mobile number. (I don't even know the number to the land line.) However, usually when I am home, my phone is up and out of reach from my two-year old daughter, unless I happen to be using it. As such, more often than not, I miss calls and texts because my phone is in a different part of the house, and I simply don't realize it is ringing. The Moto 360 (or any other watch with Android Wear) would instantly solve this dilemma. When the phone rings, I could simply glance at my wrist to see whether it was important or not. Similarly, I could simply glance at my wrist in the mornings to know what the weather forecast for the day is, as well as the current temperature outside. However, the question I really need to think about is whether or not I want this level of connectivity at all times. In some ways, such as in the examples I described above, it would be great. However, in some ways, I'm not so sure.
Either way, the watch will need to be super durable. It needs to be resistant to scratches, rugged enough to get accidentally banged up on things, water resistant, and to add something additional to the mix, the battery has to last a long time. I don't want to have to charge my watch like I charge my phone. The price also has to be affordable. As such, I am taking a wait and see approach to this, knowing that I am super happy with my G-Shock.